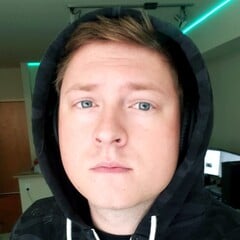 Tyler Klimek / TolerLive
Lighting Artist - 343 Industries, TolerLive - Twitter
Redmond, United States
About
As an Environment and Lighting Artist I aim for believability, immersion, and a sense of wonder as I design and produce highly detailed models, meticulously crafted materials, and beautifully lit real-time environments that feel authentic and genuinely thought out. As I aid these skills with my experience in industry standard software as well as proprietary, I aim to shape the future of this immersive industry.
I graduated in January 2018 with a Bachelor of fine arts in Game Design & Development from the University of Wisconsin - Stout along with a minor in Business Administration. I graduated with a Master of Fine Arts in Visual Effects from the Savannah College of Art & Design in the winter of 2020 of 2018.
In September 2020 I was brought onto 343 Industries as an Environment Artist intern, and in shortly after transitioned into a Lighting Artist role at 343 working on Halo Infinite. I am still working here currently as a Lighting Artist.
Hit "View" under Resume PDF to view up-to-date resume.
Skills
Lighting
Environment Art
Physically Based Rendering
Environment Lighting
Organic Modeling
Hard Surface Modeling
Materials
Texture Baking
Unreal Blueprint
VR Integration
Shaders
3D Animation
VFX
SFX
Adobe Suite
Compositing
Team Management
Leadership
Software proficiency

Slipstream Engine
Unreal Engine

Maya

Houdini

ZBrush

Substance 3D Painter

Substance 3D Designer

RenderMan

Arnold

Marmoset Toolbag

Nuke

InDesign

Premiere
Productions
Video Game

Halo Infinite

Year

2021

Role

Lighting Artist

Company

343 Industries

Video Game

Search for The Gryphon (Virtual Reality Themed Attraction)

Year

2019

Role

3D Generalist - Texture Artist - Environment Artist - Sprint Leader

Company

Professional Collaboration led by Jack Mamais (Formerly of Crytek, Lead Designer of Crysis)

Video Game

Rites of Umbra

Year

2017

Role

Project Lead, Lead Game Designer, Lead Audio Director, Environment Artist

Company

University of Wisconsin - Stout